Why take a course?
The IDF Expedition Cave Diver course is one of those training courses that crowns a certain path and leaves the diver free to apply new tools, procedures and methods to his or her own explorations and pursuits. Graduates of these most advanced courses start to set their own path, draw their own boundaries and look for new areas to get to where no one else has been. During this course you will learn how to take the adventure of cave tourism to a whole new level accessible only to explorers. With the IDF Expedition Cave Diver training you will gain access to methods and techniques such as using scooters, no mount configuration, or using techniques and rope access techniques to pass dry parts. You will also learn to plan decompression dives using multiple gases. If you want to go further than the others, this training is for you!
What will you learn?
The IDF Expedition Cave Diver is one of the most intensive and demanding training you can take part in. Among the theoretical issues you will learn during the training there are methods of organizing expeditions, searching for new caves, planning decompression in difficult cave conditions and different shape of corridors or mapping caves. The practical classes will take place both on the surface and during diving, as you have the ability to master speleological techniques used in dry parts of caves. You will practice passing restrictions and dealing with problems resulting from diving in such a difficult environment. In addition, you will have the opportunity to learn how to plan and distribute deposit tanks and how to perform effective decompression even in caves with an unfavorable profile. You will also take part in workshops and cave mapping exercises. You will be able to practice collecting data, processing it and using computer programs to create real maps and models of caves.
What do you need to start?
Minimum age: 18 years
Sufficient swimming ability
Health condition to participate in the course
IDF Full Cave Diver certificate or equivalent
IDF Twinset Diver certificate or equivalent (if the course takes place in a back mount configuration)
IDF Advanced Side Mount Diver Certificate or equivalent (if the course is done in side mount configuration)
IDF Advanced Nitrox certificate or equivalent
Minimum 250 logged in dives, including at least 30 cave dives
What is the course?
What will you be entitled to after the course?
Upon completion of the IDF Expedition Cave Diver training, you will be authorized to dive with accelerated decompression in caves and anthropogenic objects to a depth consistent with your current qualification.
IDF Certificate
Upon completion of the training, you will receive an internationally recognised certificate confirming your qualifications. It is a plastic card with a unique number and watermark. In addition, you will have lifelong access to an individual panel on the IDF website, where your certificate will always be available in electronic form - in case you ever forget to take the original with you for diving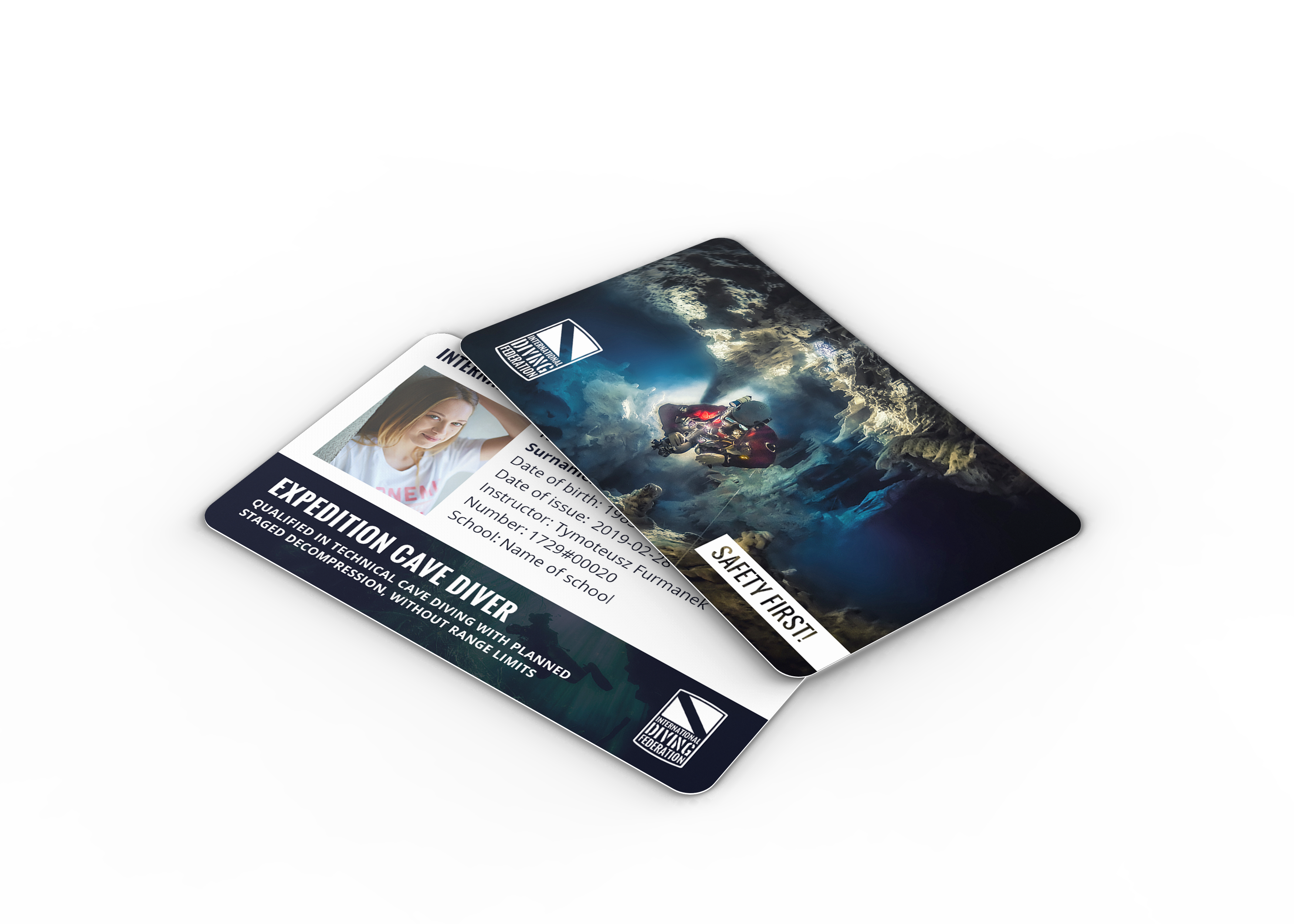 What next?
You have reached the end of the training path, which concerns cave diving. It was an extremely intensive and exciting course that allowed you to take your skills and knowledge to a whole new level. We wish you a lot of luck, great experiences and discoveries on this path and, of course, safe explorations. The caves have already stolen many hearts and we hope that you will still make many wonderful discoveries…
Find instructor