Why take a course?
The IDF Junior Master Diver course is a counterpart of a black belt for young divers, the highest level of initiation before entering the adult dive path. Taking part in it allows to gain competence, build self-confidence and improve knowledge and practical skills related to diving. This training is an excellent way to close a certain stage in learning and developing your underwater passion.
What will you learn?
The IDF Junior Master Diver course has a highly developed theoretical module to build comprehensive knowledge in an advanced young diver. The lectures discuss equipment issues, diving technique, diving physics, and the water environment.
During the dives there are going to be new and more difficult skills such as removing and putting the equipment on the water surface or using a signal buoy.
What do you need to start?
Minimum age: 12 years
Sufficient swimming ability
Health condition to participate in the course
IDF Junior Navigation Diver Certificate
IDF Junior Night Diver certification
IDF Junior Rescue Diver certificate
What is the course?
What will you be entitled to after the course?
Dive to a depth of 12 meters in open water with an Instructor, Divemaster, parent (legal guardian) with an IDF Rescue Diver license or higher.
IDF certificate
Upon completion of the training, you will receive an internationally recognised certificate confirming your qualifications. It is a plastic card with a unique number and watermark. In addition, you will have lifelong access to an individual panel on the IDF website, where your certificate will always be available in electronic form - in case you ever forget to take the original with you for diving.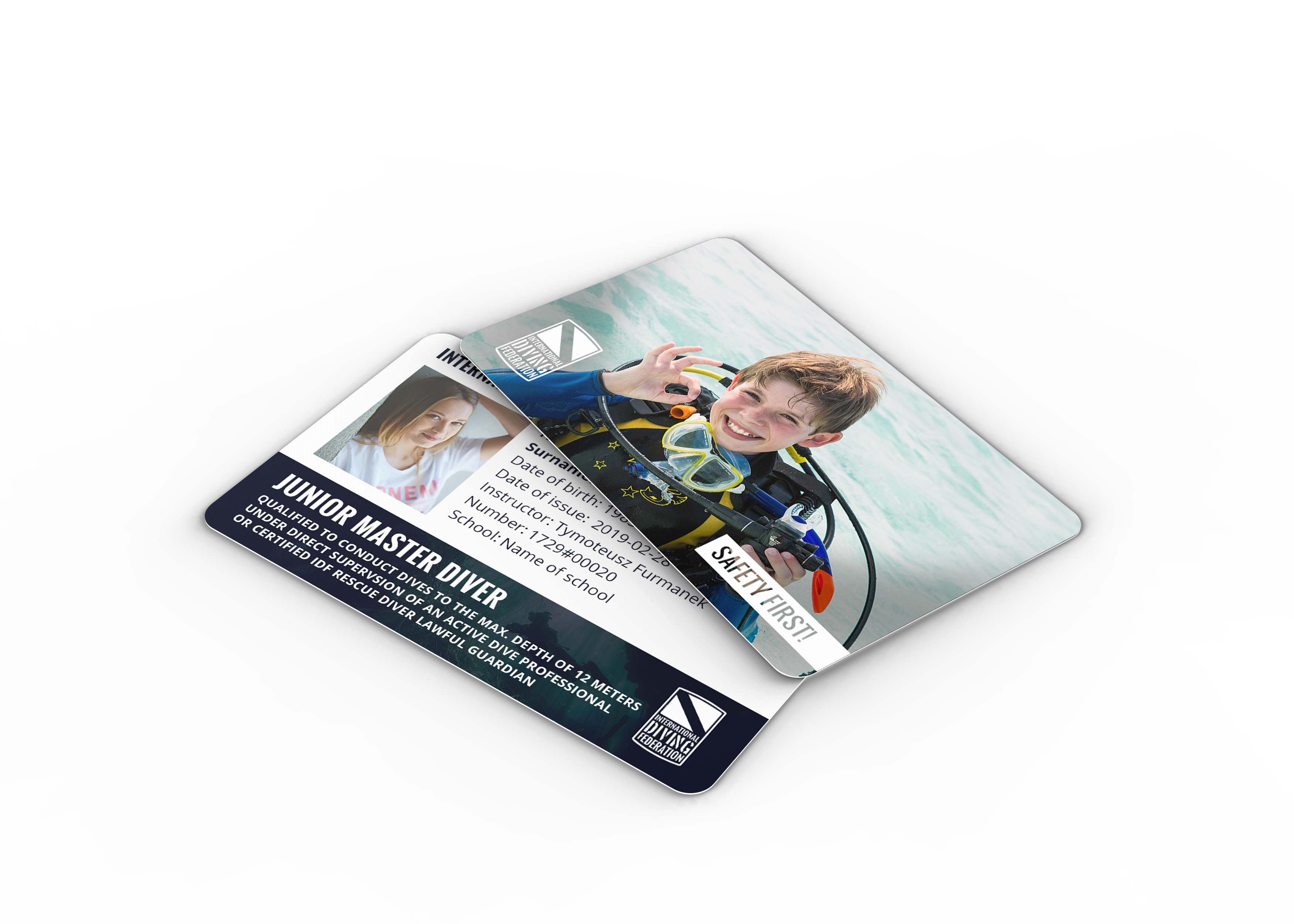 What next?
By completing the IDF Junior Master Diver course, our young dive enthusiast has reached the end of a very complex training path designed especially for children and teenagers. We hope that the skills, knowledge and experience gained will make a true love for this underwater world appear in the heart of the young generation of divers, a passion to explore and defend the water environment.
Time passes quickly, and after reaching the right age it will be possible to start the adventure with an "adult" dive courses.
Find instructor