Why take a course?
Night diving is not exclusively reserved for adult divers. Small depths, proper preparation and well-chosen equipment will also allow young divers to dive after the sunset.IDF Junior Night Diver is a special training course that allows young graduates of the Junior Open Water Diver course to master the skills and knowledge that will enable them to perform night dives.
What will you learn?
The theory of the Junior Night Diver course is very similar to that of the adult course. The lectures will cover issues that describe the characteristics of night diving logistic and appropriate techniques, including the use of light for communication, but also the water environment and the nightlife.
During training dives, the previously discussed diving techniques will be implemented and practiced until they are comfortably mastered. Thus, young divers will learn how to communicate by means of light or touch and deal with emergency situations. In addition, they will have the opportunity to see how to prepare a dive site and light it properly to help them find their way back after the dive.
What do you need to start?
Minimum age: 10 years
Sufficient swimming ability
Health condition to participate in the course
IDF Junior Open Water Diver certificate or equivalent
What is the course?
What will you be entitled to after the course?
Diving in open water without daylight with an Instructor, Divemaster or parent (legal guardian) with an IDF Rescue Diver or above.
IDF Certificate
Upon completion of the training, you will receive an internationally recognised certificate confirming your qualifications. It is a plastic card with a unique number and watermark. In addition, you will have lifelong access to an individual panel on the IDF website, where your certificate will always be available in electronic form - in case you ever forget to take the original with you for diving.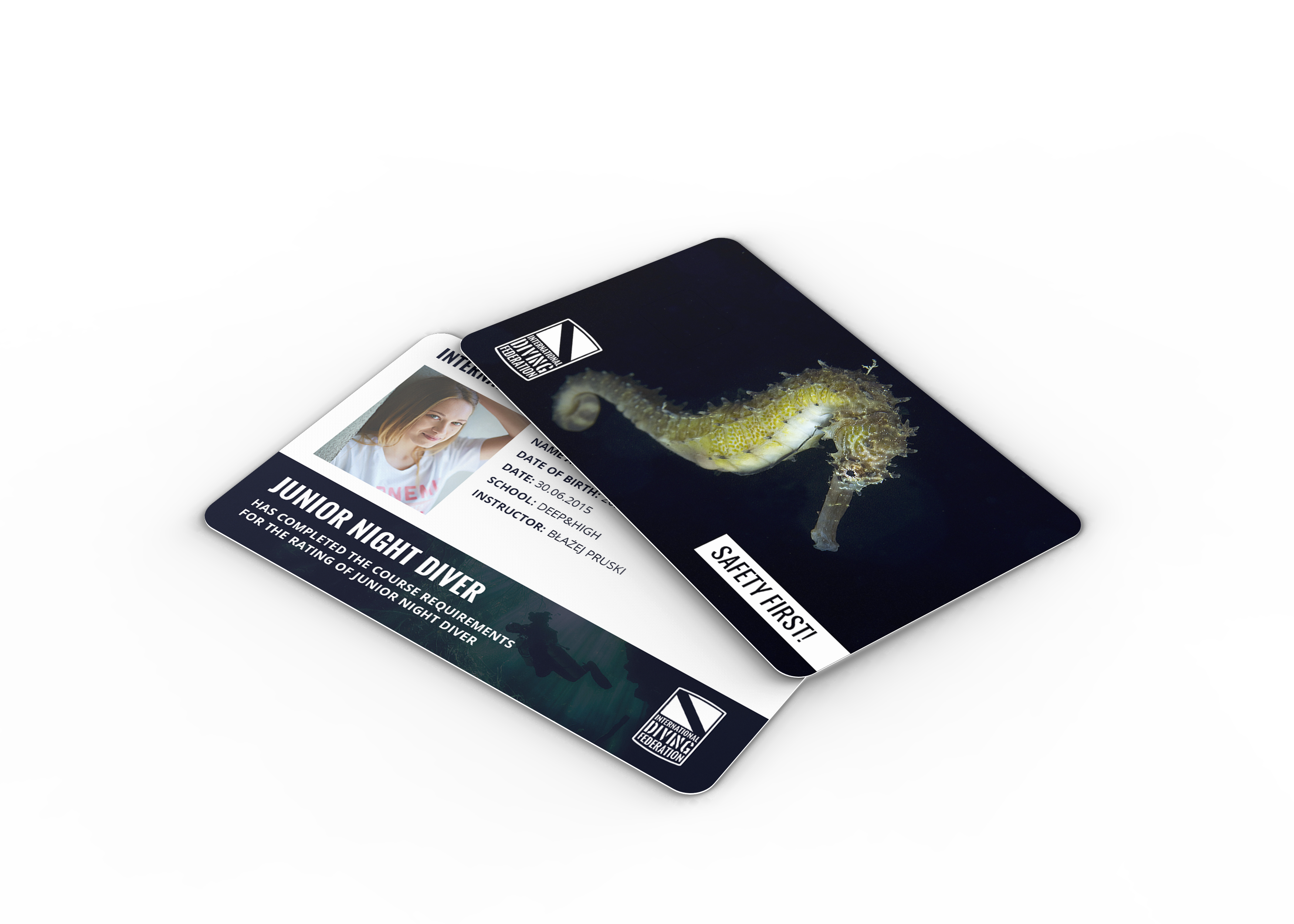 What next?
It is worthwhile to further develop underwater skills of young divers. The skills that allow diving at night are the beginning, as there are other specialties such as rescue and navigation that can be a great tool for further development. The last stage of youth diving training is of course the IDF Junior Master Diver.
Find instructor