Why take a course?
Deep diving can be very attractive for many reasons, because it allows you to see less frequented dived coral reefs, dive in deeper wrecks, or reach places where there are few divers. The IDF Deep Diver course will prepare you for planning and performing deep dives both in terms of theoretical knowledge of the processes that occur in a diver's body under the influence of increased partial pressures of both oxygen and nitrogen as well as in terms of practical skills.
What will you learn?
During theoretical classes you will learn how to plan and perform deep dives based on various methods and choose the approach that will ensure the greatest safety and comfort of diving. You will also learn the basics of decompression theory, which will be discussed in more and more details at each successive stage of development, especially during technical diving training. During training dives you will practice reacting to various emergency situations and improve your rescue skills. In addition, you will practice blue water ascend with a decompression buoy.
What do you need to start?
Minimum age: 16 years
Sufficient swimming ability
Health condition to participate in the course
IDF Advanced Open Water Diver certificate or equivalent
What is the course?
What will you be entitled to after the course?
The IDF Deep Diver course entitles you to plan and execute dives up to a depth of 40 metres with a partner with equivalent or higher qualifications.
IDF Certificate
Upon completion of the training, you will receive an internationally recognised certificate confirming your qualifications. It is a plastic card with a unique number and watermark. In addition, you will have lifelong access to an individual panel on the IDF website, where your certificate will always be available in electronic form - in case you ever forget to take the original with you for diving.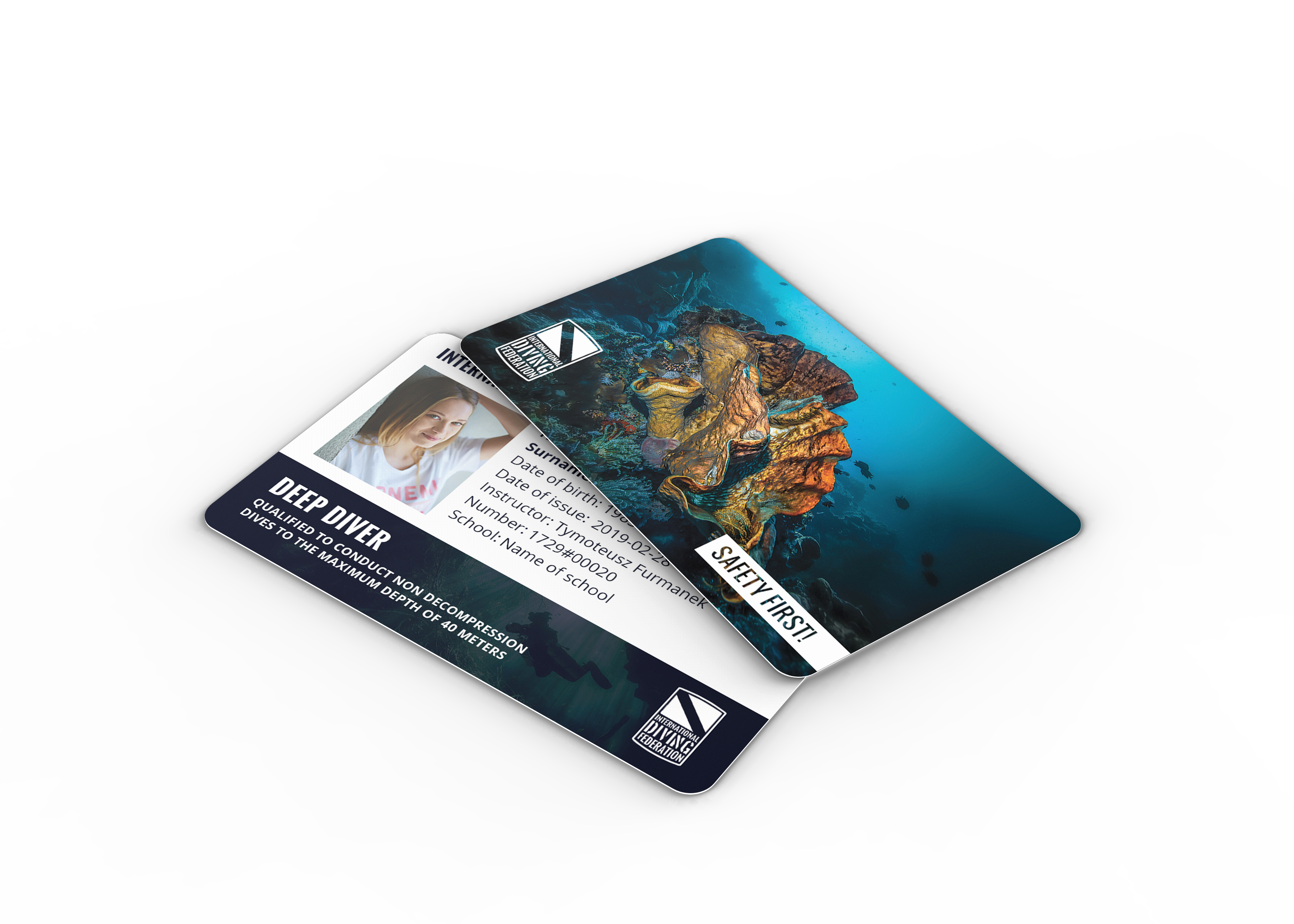 What next?
New, valuable skills and experience will allow you to continue your diving career in increasingly difficult and challenging conditions. The next step may be the approach to the IDF Master Diver course, which by closing the recreational path is also a bridge to technical diving.
Find instructor