Why take a course?
Divemaster is the first stage of professional diving. You are becoming a dive master for those less experienced and an excellent guide in the underwater world for those more experienced. Taking part in the IDF Divemaster course is a step towards changing the current passion for professional diving. The transition from an amateur of underwater exploration to a professional sharing his passion with others. Divemasters can become instructors in the long term and further advance to the next levels, allowing them to gain new qualifications and skills in training the next underwater adventure enthusiasts.
What will you learn?
During the IDF Divemaster course you will learn first and foremost the professional approach to working with people. This includes both running underwater groups consisting of certified divers, making an underwater trip for non-divers during the Scuba Intro, as well as working with IDF instructors, organizing work and assisting during dives. You will learn advanced safety procedures such as creating an escape route and managing the rescue operation.
What do you need to start?
Minimum age: 18 years
Sufficient swimming ability
Health condition to participate in the course
IDF Master Diver certificate or equivalent
IDF Rescue Diver certificate or equivalent
IDF Deep Diver certificate or equivalent
IDF Nitrox Diver certificate or equivalent
IDF Navigation Diver certificate or equivalent
IDF Night Diver certificate or equivalent
IDF First Aid Response Certificate or equivalent
Minimum 100 logged Open Water Diver dives, including at least 30 dives in depths greater than 20 metres and at least 30 in difficult environmental conditions (for example: night dives, in current, low visibility, in water below 10 Celsius degrees)
What is the course?
What will you be entitled to after the course?
Upon completion of the IDF Divemaster course, you will be authorized to lead underwater groups consisting of certified divers within the range of their qualifications, to participate in the Scuba Intro program and to assist the instructor during the training.
IDF certificate
Upon completion of the training, you will receive an internationally recognised certificate confirming your qualifications. It is a plastic card with a unique number and watermark. In addition, you will have lifelong access to an individual panel on the IDF website, where your certificate will always be available in electronic form - in case you ever forget to take the original with you for diving.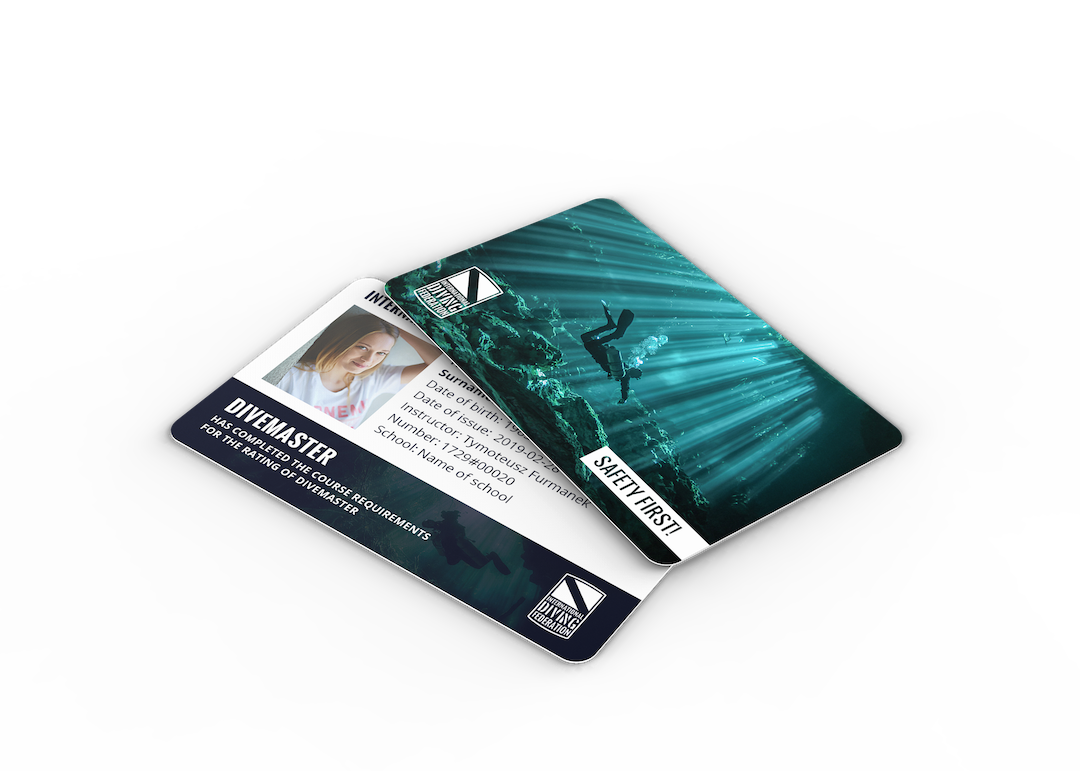 What next?
After taking this important step towards becoming a diving professional, you will be given the opportunity to continue your adventure and become a diving instructor. You can use the skills you've acquired all over the world.
Find instructor