Why take a course?
Underwater scooters are becoming increasingly popular among divers. Their use is very versatile - from more efficient transport and fun to advanced explorations and difficult cave or wreck dives. Whatever your motivation, the ability to use the new tool is extremely valuable, and this is what you can learn by taking the IDF DPV Diver course. In addition, you can expect the course to be both great fun and an opportunity to try something completely new and have fun.
What will you learn?
The theoretical classes in the IDF DPV Diver course will allow you to get used to the way the DPV works and learn safety procedures before you even get in the water. During the training dives, you will master the techniques of moving with a scooter – from easier skills such as swimming in a straight line, changing depths while maintaining safe, controlled speed, performing various manoeuvres, to rescue procedures such as towing a partner, scooter or dealing with equipment failures.
What do you need to start?
Minimum age: 15 years
Sufficient swimming ability
Health condition to participate in the course
IDF Open Water Diver certificate or equivalent
What is the course?
What will you be entitled to after the course?
The IDF DPV Diver course entitles you to dive with a submarine in the depth range according to your current privileges and in the partner system.
IDF certificate
Upon completion of the training, you will receive an internationally recognised certificate confirming your qualifications. It is a plastic card with a unique number and watermark. In addition, you will have lifelong access to an individual panel on the IDF website, where your certificate will always be available in electronic form - in case you ever forget to take the original with you for diving.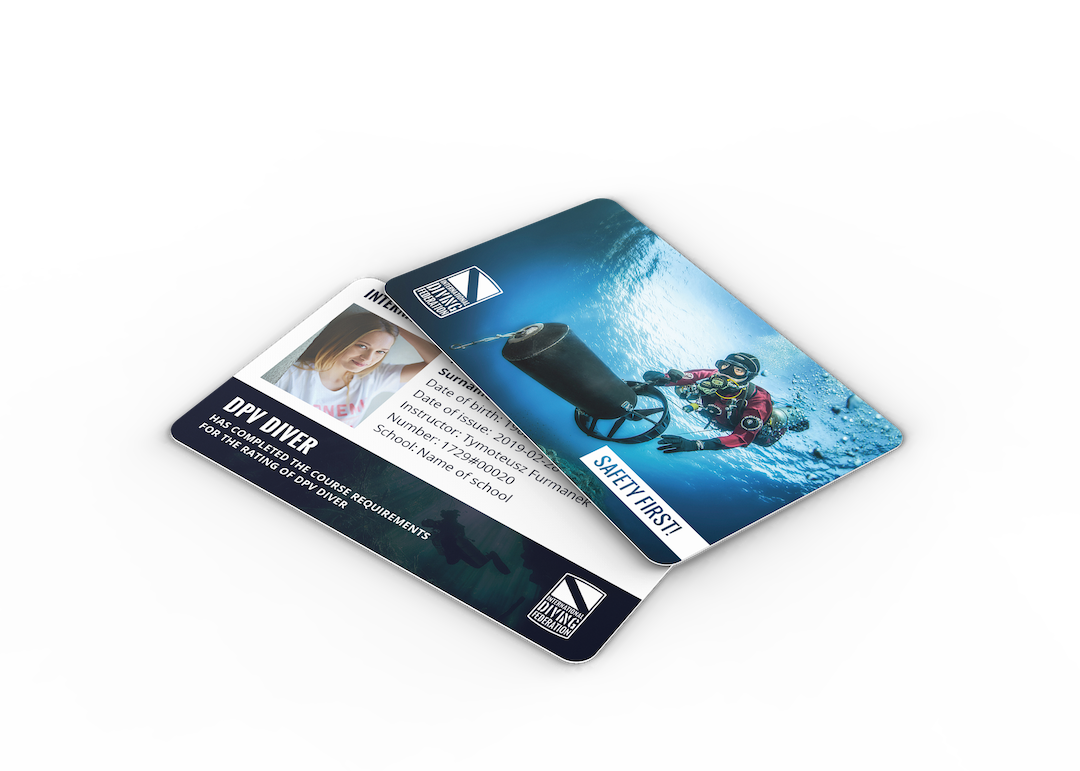 What next?
The ability to use such advanced tools as submarine scooters opens up entirely new possibilities for divers. Overcoming longer distances in less time can be useful for more advanced dives. If you are not yet qualified to dive on nitrox, it is now worth considering extending the bottom time. Otherwise, it is worth combining the ability to use a scooter with technical diving, the first step of which will be an IDF Advanced Nitrox Diver.
Find instructor