Why take a course?
Thermal comfort is extremely important for practically every diver. Not only does it increase the pleasure of diving in cold water itself, but most importantly, it helps to prevent cooling and, consequently, hypothermia. Stiff cold fingers make it difficult to use the equipment, and strong cold often makes people stop thinking rationally. You don't have to give up diving at the end of summer or limit yourself to exotic trips to warm countries. Dry suits are a fantastic tool that allows you to enjoy diving all year round regardless of the weather and latitude.
What will you learn?
During the IDF Dry Suit Diver course you will learn how to choose the right dry suit for you and a undergarment that will give you optimal comfort. You will learn about the properties of different types of suits and different undersuits and maintenance methods so that you are fully aware of your decision when choosing a personal set. You will also learn how to use a dry suit as a backup buoyancy device, what propulsion techniques will be most effective and how to deal with potential problems that may arise during a dive.
What do you need to start?
Minimum age: 15 years
Sufficient swimming ability
Health condition to participate in the course
IDF Open Water Diver certificate or equivalent if the course is not combined with an IDF Dry Suit Diver
What is the course?
What will you be entitled to after the course?
The IDF Dry Suit Diver course entitles you to dive with the use of a dry suit to the depths specified in your license.
IDF Certificate
Upon completion of the training, you will receive an internationally recognised certificate confirming your qualifications. It is a plastic card with a unique number and watermark. In addition, you will have lifelong access to an individual panel on the IDF website, where your certificate will always be available in electronic form - in case you ever forget to take the original with you for diving.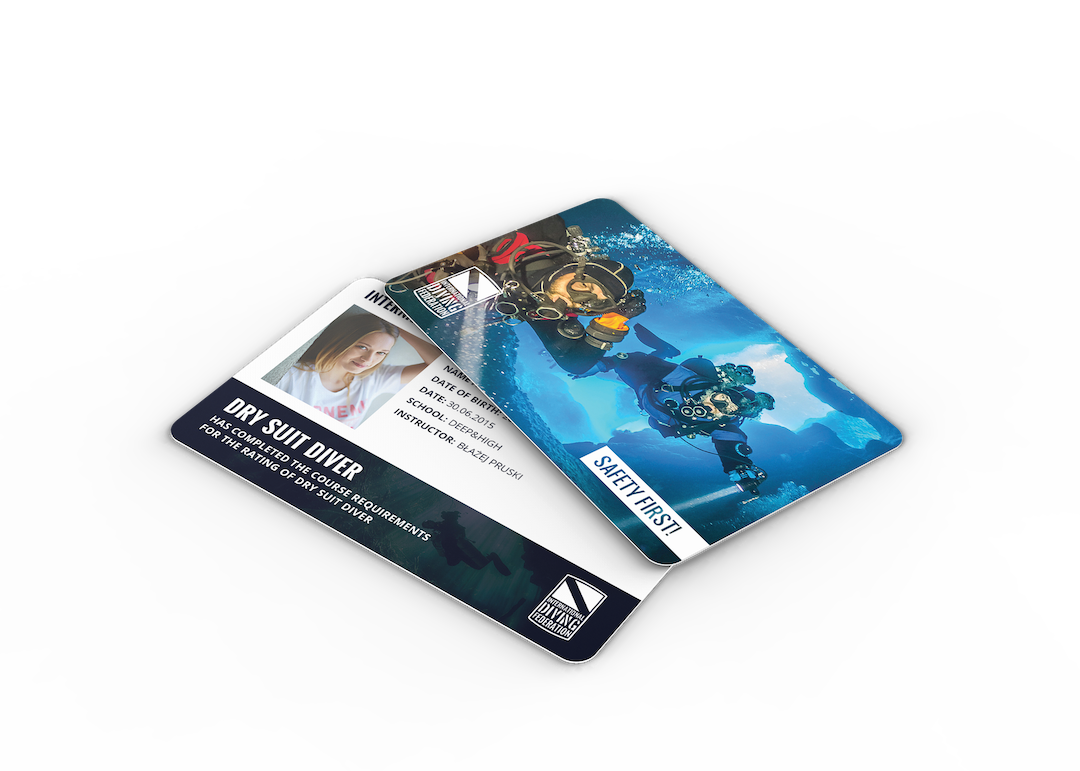 What's next?
The dry suits course opens up many opportunities for diving in cold waters. You can now boldly learn how to dive under the ice, deep below the thermocline, or in cold seas, where many wrecks have rested at the bottom.
Find instructor