Why take a course?
Full face masks have many applications in diving. On the one hand, they isolate the entire face of the diver from the water, on the other hand, they enable the use of wireless communication systems. Whether you are driven by curiosity or purely practical considerations, if you want to use full face masks you should learn the procedures and possess the skills that will allow you to fully enjoy their benefits. During the IDF Full Face Mask Diver course you will gain both knowledge and skills that will make diving with such specialized equipment neither difficult nor complicated.
What will you learn?
In the theoretical part you will learn about the construction and functions of a full face mask and configure the equipment to maintain the greatest possible safety. In the training dives you will master new skills, such as taking off the mask underwater, replacing it with a regular diving mask and a backup regulator, or putting on a full face mask again. You will discover that some of these seemingly simple steps will require completely new methods and approaches, which your IDF Instructor will show you during the classes.
What do you need to start?
Minimum age: 15 years
Sufficient swimming ability
Health condition to participate in the course
IDF Open Water Diver certificate or equivalent
What is the course?
What will you be entitled to after the course?
Diving with a full face mask in the depth range in accordance with the current qualifications and in the buddy system.
IDF certificate
Upon completion of the training, you will receive an internationally recognised certificate confirming your qualifications. It is a plastic card with a unique number and watermark. In addition, you will have lifelong access to an individual panel on the IDF website, where your certificate will always be available in electronic form - in case you ever forget to take the original with you for diving.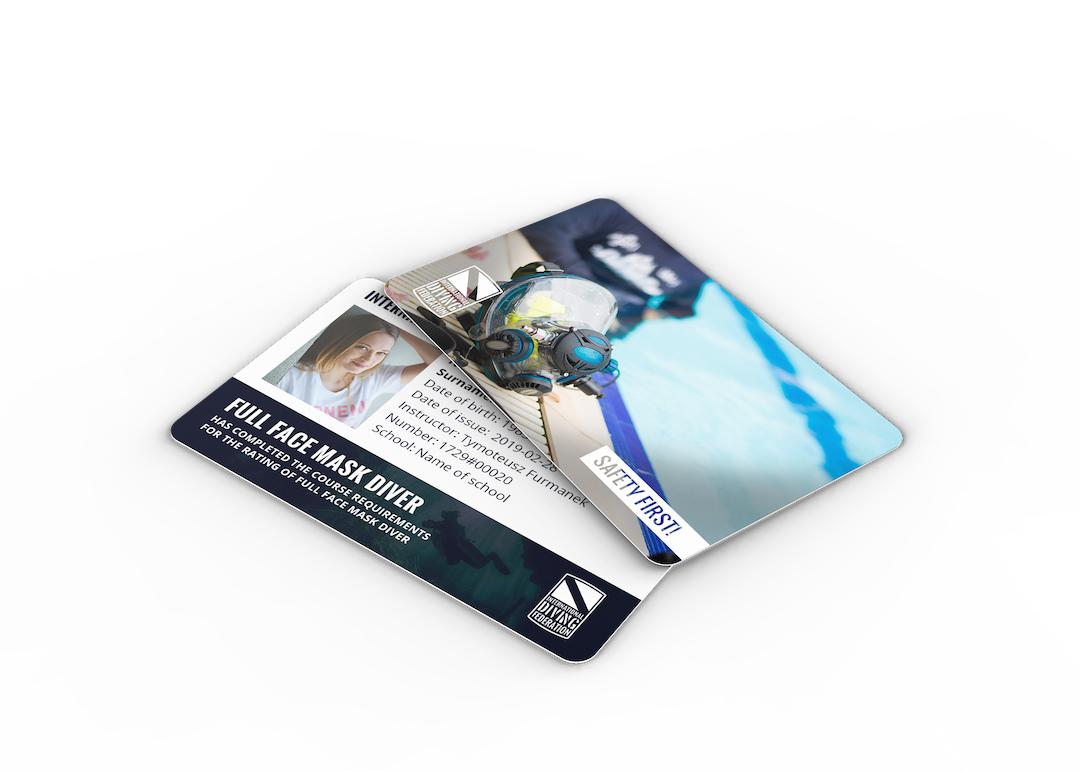 What next?
Using a full face mask makes diving in difficult conditions more enjoyable and accessible. The possibility of using communication systems is another advantage that can be used even in very different conditions and types of dives. Perhaps the next step will be to reach for another tool that divers like to use – an underwater scooter, which allows you to move quickly underwater.
Find instructor