Why take a course?
Diving at night lets you discover a whole new world. Even the dive sites you know well, after the sunset, can change almost beyond recognition. In the darkness, thanks to the light of diving torches, you will discover new creatures that sleep in hiding during the day and only start their activity when the nightfall falls, such as crabs, crawfish or many predators - from moray eels to sharks. You will also be able to admire the extraordinary phenomenon of bioluminescence, which makes the sea water burn with thousands of green or blue stars when your hands or fins move. Learning to dive at night is not only a fantastic adventure with the new face of the underwater world you know so far, but also a perfect introduction to the next stages of your diving journey
What will you learn?
In the IDF Night Diver course you will learn how to plan your night dive and how to prepare properly for it, how to use different light sources to best suit your needs. You will learn how to use flashlights not only to illuminate your way, but also to communicate with your diving partners. You will also master a variety of rescue and self rescue techniques that will not only help you during a night dive, but always when you face poor visibility.
What do you need to start?
Minimum age: 15 years
Sufficient swimming ability
Health condition to participate in the course
IDF Open Water Diver certificate or equivalent
What is the course?
What will you be entitled to after the course?
The IDF Night Diver course entitles you to perform night dives without daylight.
IDF Certificate
Upon completion of the training, you will receive an internationally recognised certificate confirming your qualifications. It is a plastic card with a unique number and watermark. In addition, you will have lifelong access to an individual panel on the IDF website, where your certificate will always be available in electronic form - in case you ever forget to take the original with you for diving.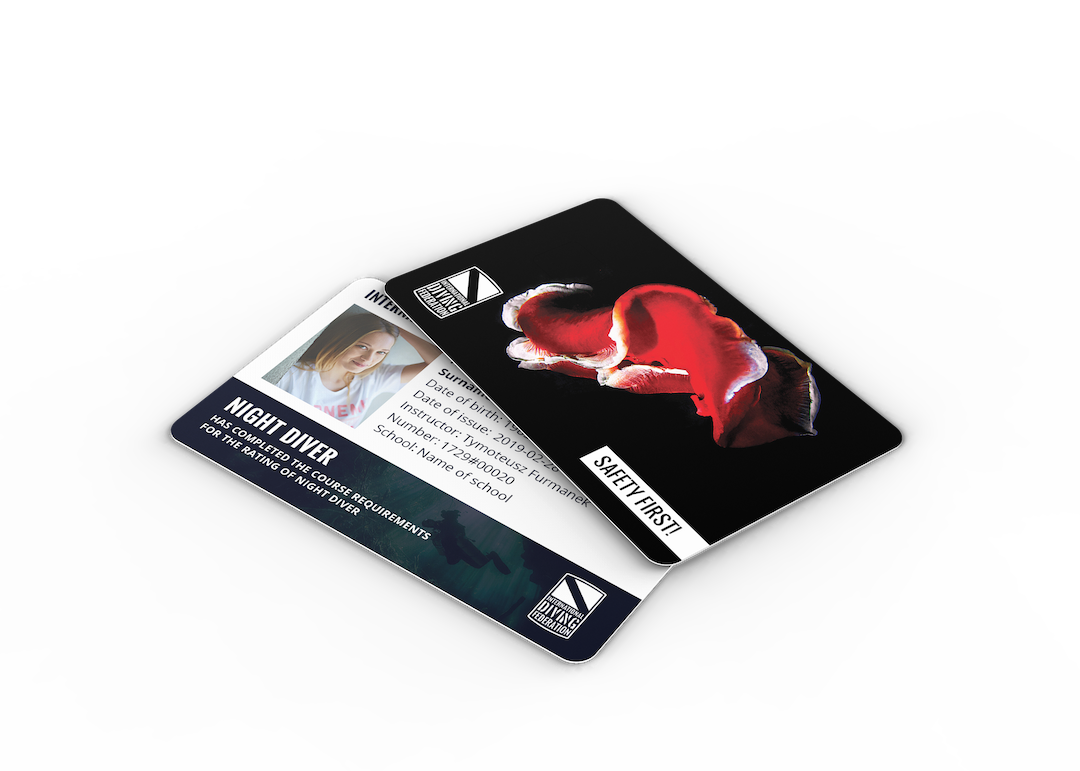 What next?
The night dive opens up a path to the next, more advanced stages. If you haven't already done so, you can continue on your way to the IDF Advanced Open Water Diver by doing IDF Nitrox Diver and IDF Navigation Diver courses gradually.
Find instructor