Why take a course?
Imagine you are on a great tropical safari and dive at least four times a day, enjoying the reefs and exotic fish. You dive using compressed air, and thus with each subsequent dive and each day your no-decompression limit becomes shorter and your dives are limited by the nitrogen accumulating in your body. There is a solution that will easily solve this problem - using a breathing mixture that contains more oxygen than air. It is Nitrox that will significantly increase your ability to do so, and even if you don't dive so intensively, it will still be a better choice and will reduce the amount of nitrogen in your body accumulated during the dive.
What will you learn?
The IDF Nitrox Diver course will teach you how to safely use oxygen-enriched breathing mixtures. You will learn how to plan your nitrox dive, what risks you should consider and how to track your oxygen exposure. You'll learn all the major secrets of nitrox diving and the physiological issues that go with high-pressure oxygen breathing. In addition, in the practical part of your classes you will learn how to help a diver who has suffered an oxygen toxicity attack.
What do you need to start?
Minimum age: 15 years
Sufficient swimming ability
Health condition to participate in the course
IDF Open Water Diver certificate or equivalent
What is the course?
What will you be entitled to after the course?
The IDF Nitrox Diver course entitles you to dive on oxygen-enriched breathing mixtures, which contain no more than 40% oxygen.
IDF Certificate
Upon completion of the training, you will receive an internationally recognised certificate confirming your qualifications. It is a plastic card with a unique number and watermark. In addition, you will have lifelong access to an individual panel on the IDF website, where your certificate will always be available in electronic form - in case you ever forget to take the original with you for diving.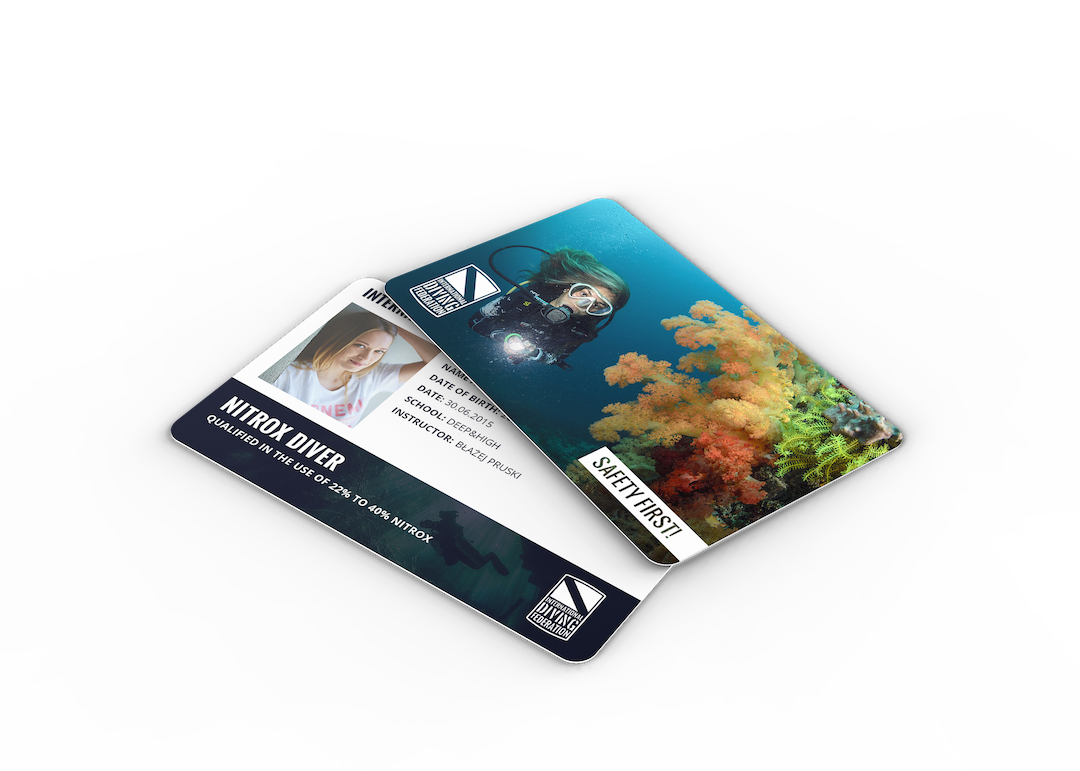 What next?
The IDF Nitrox Diver course is one of the courses that allow you to join the IDF Advanced Open Water Diver. However, this is not all, as the knowledge you will gain during the training, as well as your rescue skills, will also be useful for much further stages of your underwater adventure. Breathing mixtures, which contain more than 40% oxygen, are used in technical dives, allowing you to move beyond the decompression-free limits.
Find instructor