Why take a course?
It is impossible to list all the reasons! Just because only 30% of our planet's surface is above water. Would you like to get 1/3 of the dish you ordered, 1/3 of the glass or earn 1/3 of your salary? No? Then why would you limit your world to a measly 30%? Diving is a pass to the remaining 70%. Under the surface of the water there is a completely different world, stunning in its diversity of life, bright colours and breathtaking beauty. It doesn't matter if your heart is stealen by a vibrant and sparkling coral reefs, gloomy wrecks with their often tragic history or the calm and green tone of our lakes. The water has already stolen many hearts and for many people the basic diving course was just the beginning of an extraordinary adventure!
What will you learn?
The course is divided into three parts, which are intended to complement each other and gradually build up the knowledge and skills that you will need while diving. The first part is a theory where you will learn, among other things, how being underwater and breathing with compressed air affects your body, what laws govern this very different environment and what you can do to plan and execute your dives safely and consciously, taking into account the diverse environment, the limitations of the laws of physics and our equipment. The second part is the confined waters, where in safe, comfortable and controlled conditions you acquire skills that will be useful later on when diving in open waters. You will learn about diving equipment, how to breathe freely underwater and regulate your buoyancy until you become weightless. You will also do many exercises that you will later use in your dives. The third part takes place in open water. You will have the opportunity to make real dives, where you will use the exercises you have mastered in real conditions. You will see that your skills and knowledge will allow you to continue diving and plan dives with a partner with the same or higher qualifications and enjoy the most of your diving experience.
What do you need to start?
Minimum age: 15 years
Sufficient swimming ability
Health condition to participate in the course
What is the course?
What will you be entitled to after the course?
The IDF Open Water Diver course entitles you to dive in open water to a depth of 20 meters, in a buddy system with a diver of equal or higher qualifications.
IDF Certificate
Upon completion of the training, you will receive an internationally recognised certificate confirming your qualifications. It is a plastic card with a unique number and watermark. In addition, you will have lifelong access to an individual panel on the IDF website, where your certificate will always be available in electronic form - in case you ever forget to take the original with you for diving.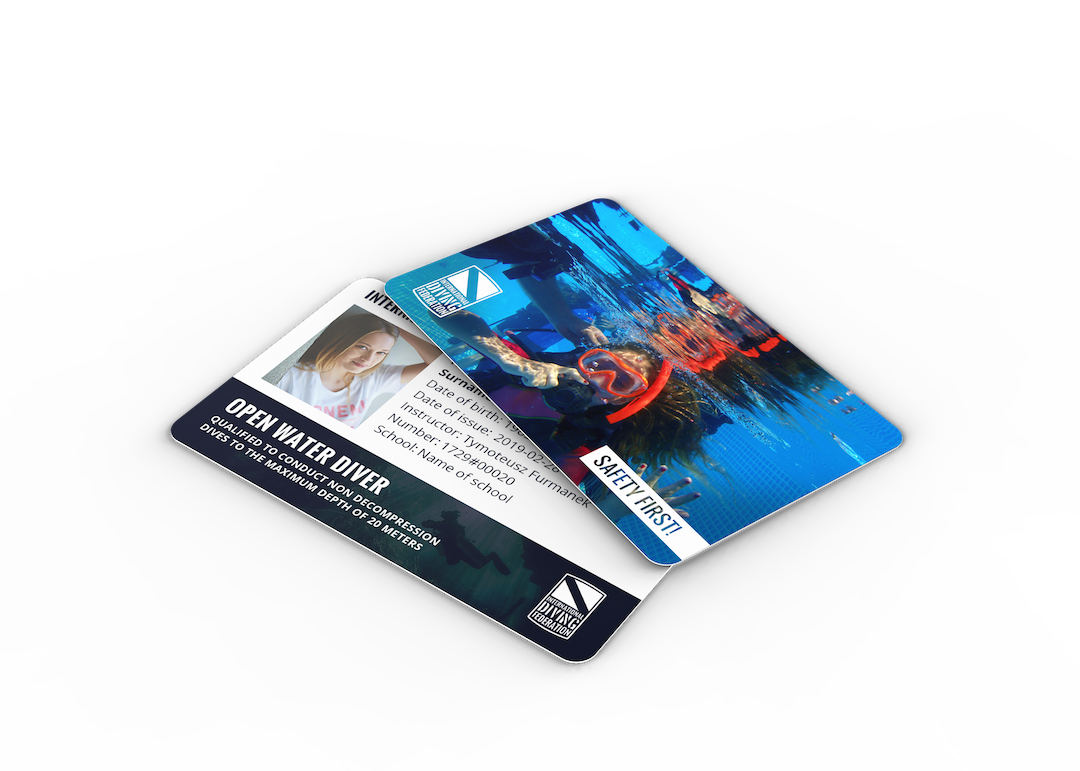 What next?
You are just beginning your adventure with diving, so there are almost countless possibilities. It is worth considering taking a course in navigation and diving at night, because the skills you have acquired will be useful not only in cold – water conditions. You can also take care of your thermal comfort and learn how to dive in a dry suit or, for example, desire to capture beautiful underwater landscapes by taking photos or videos. The adventure is just beginning!
Find instructor