Why take a course?
Rescue skills are one of the most valuable skills that every diver should have and polish to match the level of difficulty of his or her dives. The people we enter the water with are often very close to us and in case of problems we want to be able to act efficiently and effectively. The IDF Rescue Diver course will comprehensively prepare you to face emergency situations and teach you how to carry out an effective rescue operation.
What will you learn?
During the course you will learn important self – rescue  techniques that will enable you to deal with potential diving problems on your own, such as removing a muscle cramp , or problems related to diving equipment failure. In addition, you will learn how to help a diver who is exhausted, panicking or experiencing other problems requiring the intervention of a dive buddy. Your IDF instructor will make sure that you practice full rescue action, from taking an unconscious diver from the bottom, towing him ashore, pulling him out, whether on shore, boat or deck, to providing first aid on the surface.
What do you need to start?
Minimum age: 15 years
Sufficient swimming ability
Health condition to participate in the course
IDF Advanced Open Water Diver certificate or equivalent
IDF First Aid Response Certificate or equivalent
What is the course?
IDF certificate
Upon completion of the training, you will receive an internationally recognised certificate confirming your qualifications. It is a plastic card with a unique number and watermark. In addition, you will have lifelong access to an individual panel on the IDF website, where your certificate will always be available in electronic form - in case you ever forget to take the original with you for diving.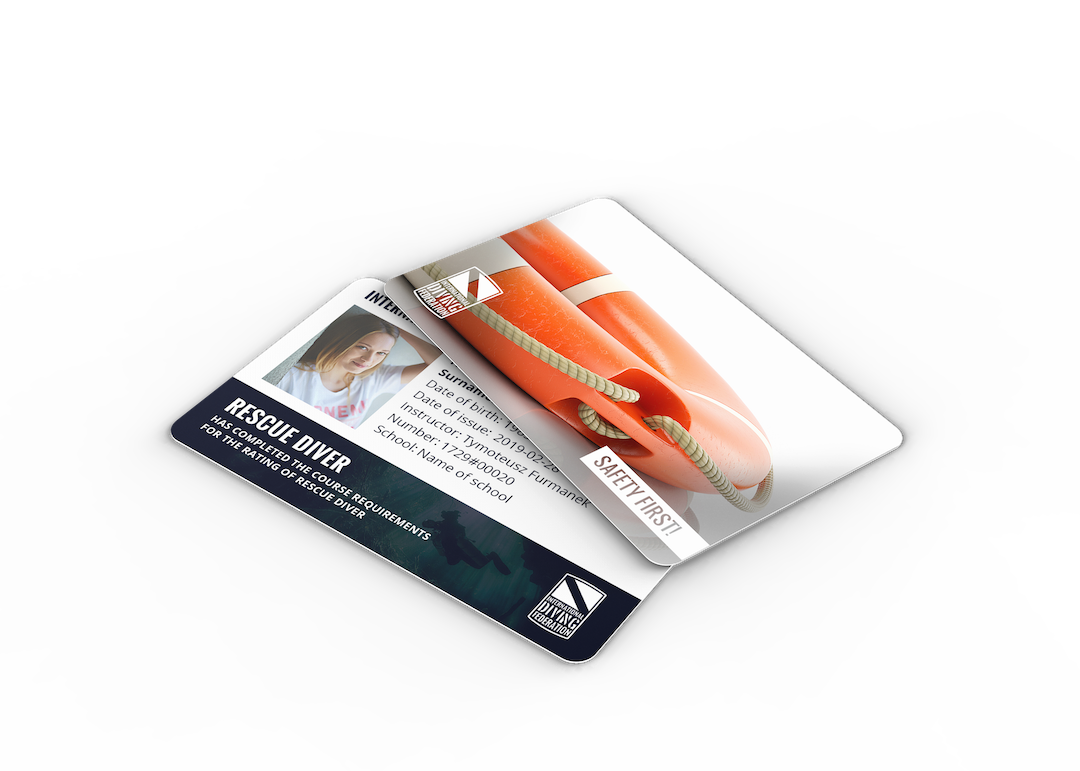 What next?
New, valuable skills and experience will allow you to continue your diving career in increasingly difficult and challenging conditions. The next step may be the approach to the IDF Master Diver course, which, in a way, ends the entire recreational path and is also a bridge towards technical diving.
Find instructor