Why take a course?
Sidemount configuration has become extremely popular in recent years. It is a convenient solution which, when used correctly, significantly increases diving comfort and makes it easier to maintain proper trim. New possibilities, great freedom of movement and new skills are just some of the reasons for taking part in IDF Side Mount Diver training.
What will you learn?
During the theoretical classes you will learn how the individual elements of the sidemount set are attached, you will learn the principles to follow when choosing the right configuration and the most effective solutions to deal with typical problems. Underwater, during the training dives you will master and improve all new skills related to the operation of side cylinders. You will learn all the safety procedures and practice doing them under the watchful eye of your IDF dive instructor. In addition, you will learn how to help another diver in the sidemount configuration, how to take him or her from the bottom and retrieve him/ her the surface.
What do you need to start?
Minimum age: 15 years
Sufficient swimming ability
Health condition to participate in the course
IDF Open Water Diver certificate or equivalent
What is the course?
What will you be entitled to after the course?
The IDF Side Mount Diver course entitles you to dive in a two-cylinder set in a side configuration, in a buddy system and to a depth limits according to your current qualifications.
IDF certificate
Upon completion of the training, you will receive an internationally recognised certificate confirming your qualifications. It is a plastic card with a unique number and watermark. In addition, you will have lifelong access to an individual panel on the IDF website, where your certificate will always be available in electronic form - in case you ever forget to take the original with you for diving.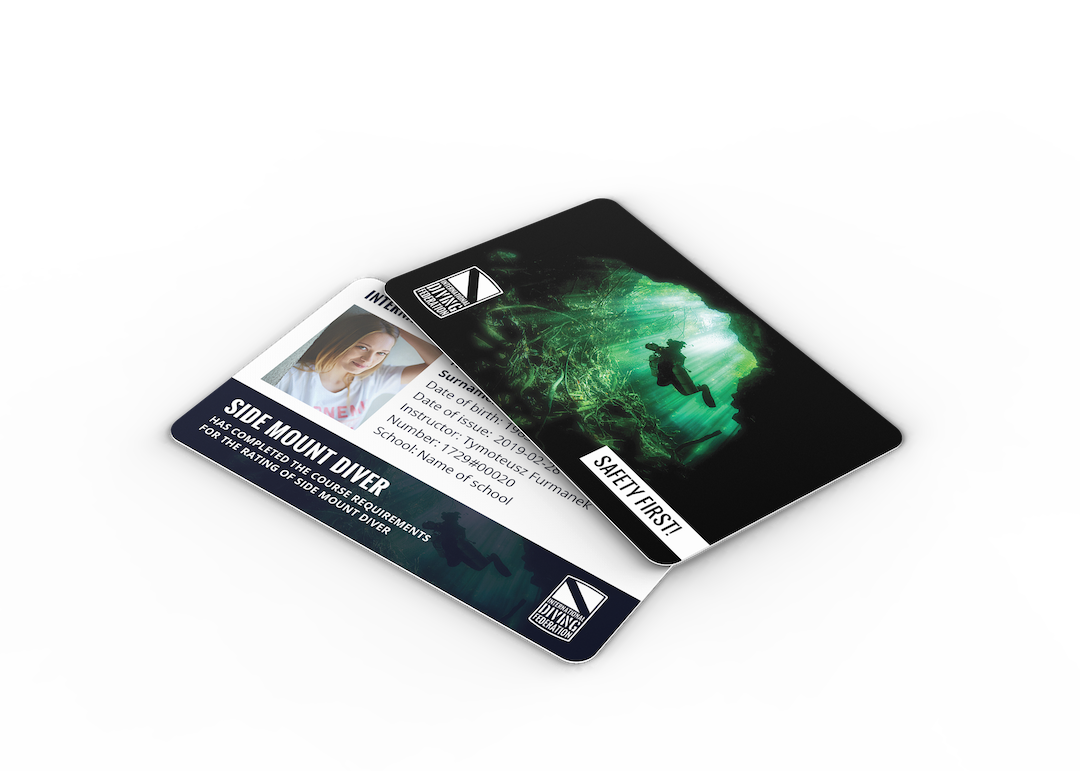 What next?
You have learned how to use the side mount configuration, a set that gives you full redundancy. This, just like the IDF Twinset Diver, opens the way to more difficult and advanced dives – deep, technical, or overhead – in caves or inside wrecks. However, if you decide to follow the path of technical diving, you will still have an IDF Advanced Side Mount Diver training that masters your diving technique with more than two cylinders – up to five that you will need as a Full Trimix diver.
Find instructor