Why take a course?
Diving in double cylinders opens the way to completely new possibilities, provided that the diver is able to fully handle all elements and consciously build his or her equipment configuration. Without knowing the right techniques, a twinset can only be a larger gas tank. The IDF Twinset Diver course allows you to acquire the appropriate knowledge and practice the skills that will allow you to take full advantage of the redundancy system.
What will you learn?
During the IDF Twinset Diver course you will learn how to take advantage of the redundancy provided by two cylinders. You will learn about the advantages and disadvantages of different types of cylinders and how to choose a set that meets your expectations and needs. In addition, we want you to master all emergency procedures related to the use of twinset efficiently. You will learn how to use weights to achieve proper trim and how to configure regulators and other equipment components to form a coherent and effective configuration. During training dives, you will practice not only efficient response, but also the use of propulsion techniques, such as backward frogkick or helicopter.
What do you need to start?
Minimum age: 15 years
Sufficient swimming ability
Health condition to participate in the course
IDF Open Water Diver certificate or equivalent
What is the course?
What will you be entitled to after the course?
The IDF Twinset Diver course entitles you to dive in a twinset configuration  in the buddy system and to the depths resulting from the current qualification.
IDF Certificate
Upon completion of the training, you will receive an internationally recognised certificate confirming your qualifications. It is a plastic card with a unique number and watermark. In addition, you will have lifelong access to an individual panel on the IDF website, where your certificate will always be available in electronic form - in case you ever forget to take the original with you for diving.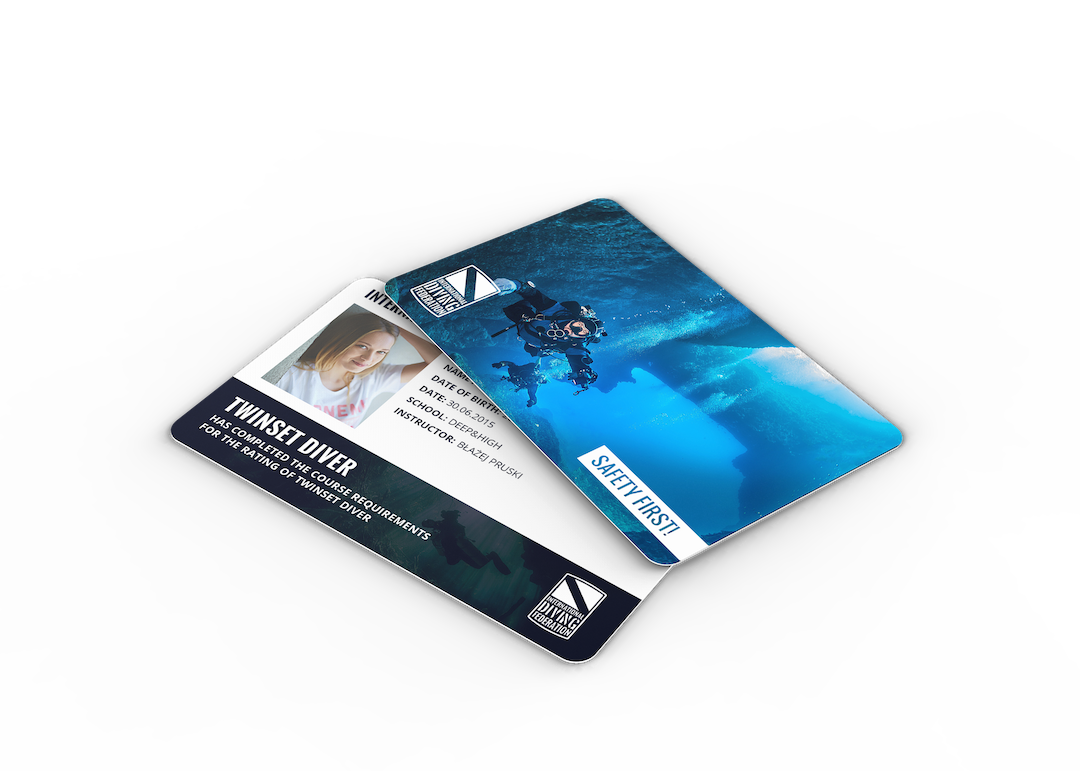 What next?
The ability to use the double cylinders and the redundancy it provides is very valuable and allows you to take your dives to a whole new level. This configuration is essential for technical dives, deep and decompression dives and overhead, whether these are cave or wreck dives. It is up to you how you use this valuable tool.
Find instructor