Why take a course?
The IDF CCR Full Trimix Diver course is the last step in deep diving path for both open and closed circuits. The final training, after which there are no more formal restrictions, and taking the next steps is a search for your own limits. It is said that there are several training courses that open the door to unlimited possibilities, where boundaries and potential are defined by the diver himself. They include a course of diving on hypoxic helium mixtures, alongside courses such as CCR Expedition Cave, CCR Advanced Wreck or CCR Advanced Ice. These courses are designed for the most advanced divers who want to gain access to all possible tools and knowledge in order to decide for themselves what to do about it and to use the possibilities provided by closed circuits in their full range.
What will you learn?
In an intensive training course that includes both theoretical and practical training, you will learn to operate the specific rebreather construction you were trained to use during the IDF CCR Diver course and you will be licensed to use it with hypoxic trimix.
What do you need to start?
Minimum age: 18 years
Sufficient swimming ability
Health condition to participate in the course
IDF CCR Trimix Diver or equivalent certification
Minimum 100 logged-in dives (with a minimum total time of 100 hours) using the rebreather model on which training is to take place, including a minimum of 20 dives to depths greater than 50 metres
What is the course?
What will you be entitled to after the course?
Upon completion of the IDF CCR Full Trimix Diver training you will be qualified to perform rebreather decompression dives using helium mixtures with less than 18% oxygen.
IDF Certificate
Upon completion of the training, you will receive an internationally recognised certificate confirming your qualifications. It is a plastic card with a unique number and watermark. In addition, you will have lifelong access to an individual panel on the IDF website, where your certificate will always be available in electronic form - in case you ever forget to take the original with you for diving.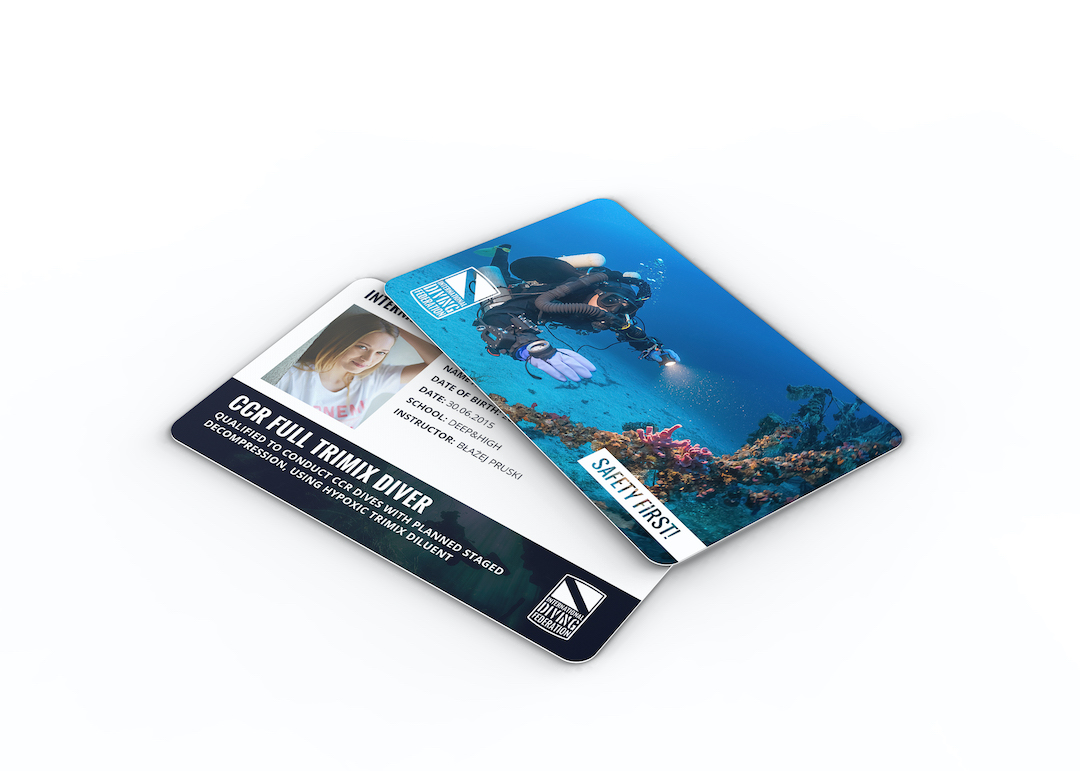 Find instructor