Why take a course?
Adding helium to the respiratory mixture is a solution that will enable you not only to increase the depth, but also to reduce the narcotic properties and density of the gas mixture. Sober mind is a valuable tool for a diver who plans to perform more complicated tasks such as wreck penetration or cave diving. The low narcotic effect achieved by enriching the breathing mix with helium will allow even deep dives to be performed in a state of complete sober mind, and the reduction of gas density will reduce breathing resistance. Thanks to the closed breathing loop, the percentage of helium will not be as much of a burden for the wallet as the open circuit!
What will you learn?
In an intensive training course that includes both theoretical and practical training, you will learn to use the specific rebreather construction you were trained to use during the IDF CCR Diver course and you will be licensed to use it with a normoxic trimix.
What do you need to start?
Minimum age: 18 years
Sufficient swimming ability
Health condition to participate in the course
IDF CCR Diver certificate or equivalent for the rebreather model on which the training is to take place
Minimum 50 logged-in dives (with a minimum total time of 50 hours) using the rebreather model on which training is to take place, including a minimum of 20 dives to depths greater than 30 metres
What is the course?
What will you be entitled to after the course?
Upon completion of the IDF CCR Trimix Diver training, you will be qualified to perform rebreather decompression dives to a depth of 65 meters, using helium mixtures with an oxygen content of not less than 18% as a dealer.
IDF Certificate
Upon completion of the training, you will receive an internationally recognised certificate confirming your qualifications. It is a plastic card with a unique number and watermark. In addition, you will have lifelong access to an individual panel on the IDF website, where your certificate will always be available in electronic form - in case you ever forget to take the original with you for diving.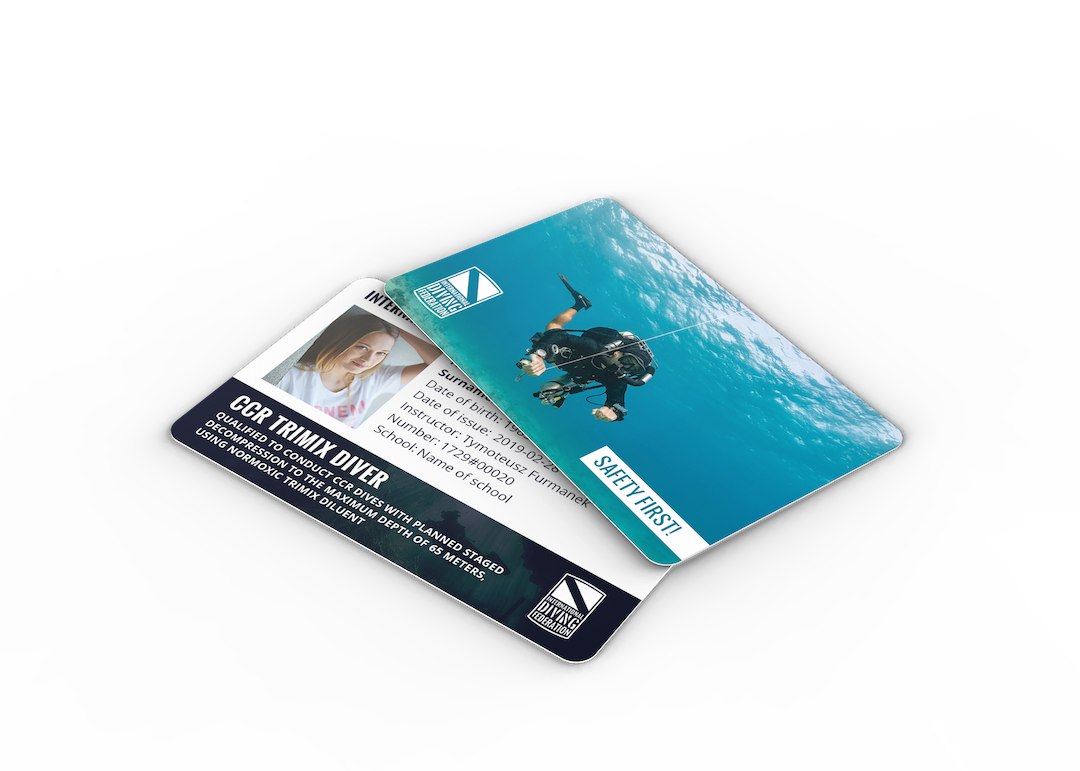 Find instructor