Why take a course?
The IDF Full Trimix Diver course is the last course with helium mixtures on this path. The final training, after which there are no more formal depth restrictions and  the next steps are just a personal search for your own limits. It is said that there are several training courses that open the door to unlimited possibilities, where boundaries and potential are defined by the diver himself. They include a course of diving on hypoxic helium mixtures, alongside courses such as Expedition Cave, Advanced Wreck or Advanced Ice. These courses are designed for the most advanced divers who want to gain access to all possible tools and knowledge and then decide for themselves what to do about it.
What will you learn?
During the very intensive training you will deal with theoretical issues related to deep helium dives. You will learn about potential problems and hazards, as well as strategies to prepare for diving on hypoxic mixtures. You will also learn how to plan such dives, from calculating gas limits and creating the composition of the ideal mixture, to using different planning methods, not to mention strategies for comfort during long decompression.
During your dives, you will not only get used to the ever-increasing range of depths, but you will also practice dealing with three side cylinders, deploying them and retrieving and passing them on to your diving partner. During the exercises you will learn how to cope with the stress caused by the accumulation of tasks and you will learn various emergency procedures.
What do you need to start?
Minimum age: 18 years
Sufficient swimming ability
Health condition to participate in the course
Trimix Diver IDF certificate or equivalent
Minimum 250 logged in dives, including at least 30 dives in depths greater than 50 metres
What is the course?
What will you be entitled to after the course?
Completing the IDF Full Trimix Diver course entitles you to decompression diving using helium mixtures with an oxygen content of less than 18%.
IDF certificate
Upon completion of the training, you will receive an internationally recognised certificate confirming your qualifications. It is a plastic card with a unique number and watermark. In addition, you will have lifelong access to an individual panel on the IDF website, where your certificate will always be available in electronic form - in case you ever forget to take the original with you for diving.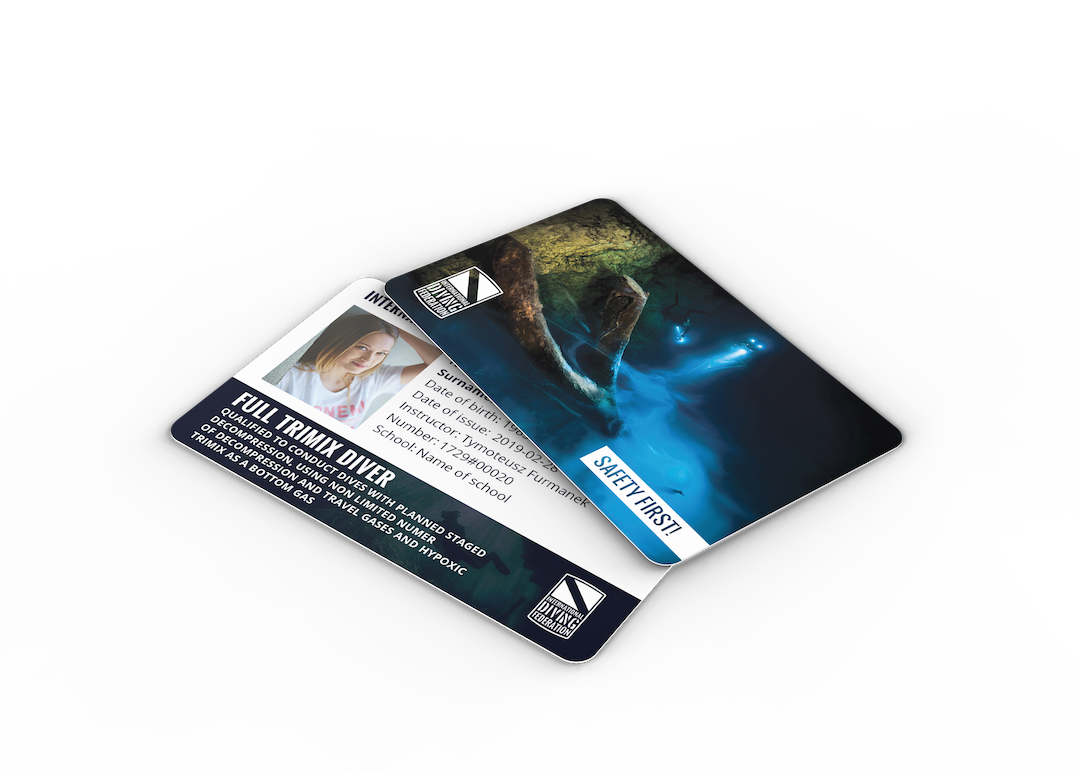 What next?
You have just completed a training that closes the technical diving path, giving you a very powerful tool to achieve your goals. The question "what next" is a question of your dreams, plans, needs and boundaries – whether they will be related to the depths or to any other kind of difficult or even extreme dive.
Find instructor