I will begin this series on diving women by introducing a true legend. Sylvia Earle remains the most outstanding oceanographer and marine biologist of our time, with a list of scientific and diving achievements that could be shared by several people and separated into several insanely rich biographies.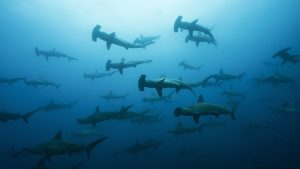 She is the first woman to steer a bathyscaphe, the first to hold the position of chief scientist at NOAA, spent two weeks in an underwater research habitat in the 1970s leading the first all-female mission, and walked 2.5 hours on the ocean floor at a depth of 380 meters – all to learn and protect. Sylvia Earle has always believed that people need to learn about the underwater world in order to love it, and thus protect it.
In 1998 she accepted the role of National Geographic's "Explorer in Residence," and using her position as an expert, she tirelessly advocates for the protection of the underwater world. She founded Mission Blue using her  TED award she won in 2009. I won't list here all her scientific achievements, all the projects, actions and research she has taken part in, because they would be enough to write a massive book. Instead, I will try to introduce you to a true legend of the world of diving and science, as well as the mission of her life.
From childhood she heard the voice of the ocean calling…
Born in 1935, Sylvia Earle admitted in numerous interviews that her fascination with the underwater world started in early childhood – she lived near the coast, so her playground was under the surface. Supported by her family, she took the opportunity to begin her studies, and later also a dazzling scientific career specifically related to biology, botany and oceanography. When studying botany, she spent 10 years examining the seaweed that grows along the coast of Florida. "Her Deepness," as journalists used to call Sylvia Earle, sat at the helm of a bathyscaphe back in 1968, being pregnant at the time. This was just the first of many moments in her life in which she accomplished amazing things or surpassed the barriers of her time.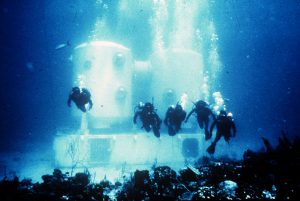 TEKTITE II
In 1969, she volunteered for the first Tektite project. Tektite was an underwater installation placed around 15 meters below the surface of the water, where selected researchers stayed for several weeks. The project took place off the coast of the Virgin Islands. Despite the experience, which counted in more than a thousand hours spent underwater, Earle was rejected by the commission. Not for long, however – just a year later she was already leading the all-female Tektite II mission team. Newspapers hailed the five female researchers taking part as "true mermaids." They spent 2 weeks without coming to the surface – with underwater (diving) activities lasting even 12 hours per day!
The research conducted during the Tektite mission was focused on nine main areas, including changes in nocturnal and diurnal activity, cleaner shrimp behavior, fish activity on the reef and bio-acoustic studies. This is because the observations showed that fish – just like animals living on the surface – have their own personalities – some are more shy, others curious, others aggressive or withdrawn. This is shocking to us, because the lack of longterm  contact (and thus observation) has meant that these are not traits we attribute to fish.
The areas of research, however, were not limited to the outside, underwater world, but also concerned the very functioning of humans in such an unusual environment – the effects of saturation diving on physiology, changes in blood, the use of decompression tables, medical surveillance, psychological aspects related to, among other things, functioning in a confined space, or the logistics needed to carry out similar projects are just some of the issues raised and studied.
Walking on the ocean floor.
As you can imagine, life in such an underwater base was more reminiscent of the experience of cosmonauts – limited space, meals consisting mainly of freeze-dried food (which astronauts ate back then!) and time passing under the sign of research work. However, this is not the only association with space exploration that will appear in Earle's life.  In 1979 she went on a walk on the ocean floor that still hold depth record for women. Wearing a deep-sea suit, she spent 2.5 hours walking on the bottom at a depth of 381 meters. What was it like? I think the best way here is to quote Earle herself, who recounted the feat in the film Mission Blue. "I was surrounded by so many creatures. I saw fish with tiny wings on their sides. Everywhere something was blinking and flashing (…)."
In the 1990s, Sylvia Earle became the first woman in history to hold positions as chief scientist at NOAA – NASA's marine counterpart – the result not only of her wildly intense career as a researcher, but also of a passion for discovery, exploration and protection that has not wavered over the years. A groundbreaking effort to protect our oceans was Sylvia Earle's founding of the nonprofit organization Mission Blue in 2009. She used the TED award given that same year to do so. Thanks to Mission Blue, she was able to support the creation of so-called Points of Hope – underwater marine parks covering ecologically unique areas. Today there are about 100 of them, and we still give far too little protection to the ocean around us, as if forgetting that it's where more than half the oxygen we need to live comes from.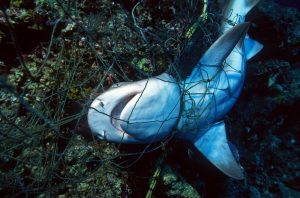 One cannot write about Sylvia Earle without mentioning the environmental issues. After all, she made it the mission of her life. The research that allowed her to learn more about the aquatic environment and then share her knowledge with the world contributed to real changes for the better. It is this admiration for the underwater light and her in-depth knowledge of it that made the famous oceanographer not eat meat, and she considers industrial fishing a nightmarish barbarism, comparing trawlers to bulldozers that destroy everything in their path. She herself says that any fish has more value in the ocean than in a frying pan.
The trawlers are responsible for the worst destruction we can imagine – we have only explored a few percent of the oceans – at greater depths, in a zone of eternal darkness, we are able to discover several – a dozen species of new animals in a matter of minutes! Imagine heavy trawler nets destroying at the same time ecosystems we don't know exist, killing creatures we haven't yet managed to discover. Moreover, most of the animals killed in such fishing are discarded as "bycatch." These include yet unknown inhabitants of the deeps, dolphins, sharks, turtles, seals, whales or even sea birds. Whales and dolphins that have so much in common with us in some countries continue to be killed – for meat (in Japan), or for tradition as in the Faroe Islands.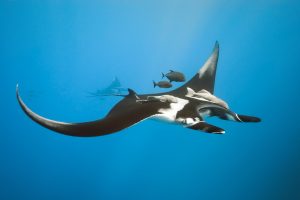 This does not mean that we should all give up eating fish altogether. First of all, the most important thing is to be aware of where the fish we choose come from, what fishing methods have been used and what impact they have on the environment. There are less damaging, selective fishing methods that reduce bycatch, and it's worth consciously choosing fish species that are not in danger of extinction (like tuna or sharks!), sourced locally, in as environmentally friendly way as possible. Current demand and fishing methods are devastating the oceans terribly, and will cause fish populations to shrink enough in a few years that we can forget about supermarket refrigerated counters being filled.  When making our choices in the stores, let's also remember that the bodies of large marine predators such as the aforementioned sharks and tuna accumulate toxins and heavy metals.
As Sylvia Earle says, "by protecting the oceans, we protect ourselves."
You can read an interview in Polish with Sylvia Earle conducted just a few years ago HERE
Movies in which Sylvia Earle speaks in turn you can watch on Netflix: Mission: Blue and Seaspiracy.
About the author: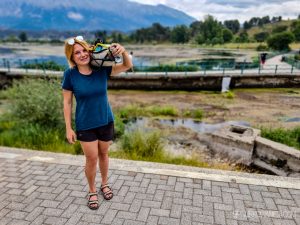 Daria Dobrowolska has been involved with the IDF since the very beginning of the federation. She is a Staff Instructor as well as Technical Diving Instructor at the trimix and advanced wreck levels, but she is most proud of her Full Cave instructor certification. In diving, she appreciates remote cave trips and fascinating macro of tropical seas. You may know her as the author of our training manuals.
Outside of diving, she enjoys spending her free time hiking in the mountains and traveling, always with a book in her backpack.